Sympathy Flowers
We at Malaga Greenhouse & Florist have a wide selection of Items to Express Your Sympathy. Fresh Flower Cemetary Arrangements, Fresh Flower Take home Arrangements, Easel Sprays, Casket Sprays, Wreaths or Keepsake Gifts. We have options that fit all budgets. On these pages are just a few of our most popular selections. Call us at 740-472-1116 and we will be happy to choose the perfect expression of your thoughts.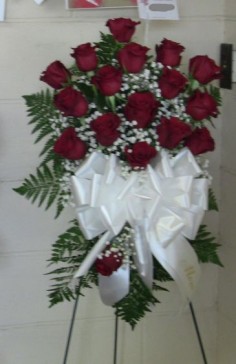 A funeral for a friend or loved one can be difficult, but funeral flowers from MALAGA GREENHOUSE of Jerusalem, OH can help begin the healing process. Funeral flowers provide the opportunity to express how much the departed means to you. Celebrate the life of your loved one with an expression of your choice. Whether it be fresh flowers or a keepsake from the gift shop, I'm sure we can find the right choice for you. Please call Joan at 740-472-1116 for individual attention to your desires.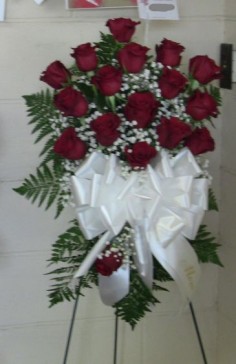 A standing funeral spray can often say what words can not. They offer comfort and sentiment with their precious petals. Send this traditional sympathy gift as your last respects to a departed friend or loved one's family. For funeral flowers delivered to any of the local funeral homes, please call Joan at 740-472-1116.
Brighten up a bleak affair with the timeless beauty of flowers. The Casket spray is made to order based on your wishes of colors and flowers. Ribbons with script representing the deceased are also included in the price. Please call Joan at 740-472-1116 to order.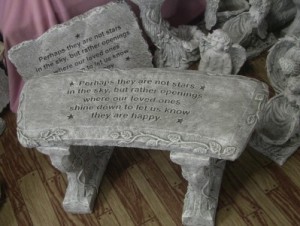 Stars Concrete Bench or plaque
Bench - $110.00 Plaque - $65.00 Includes a silk spray to attach Sympathy card to.
$110.00, $65.00
Shown at $110.00