Funeral Home Flower Delivery
Malaga Garden Center
Funeral Flower Delivery
You can send flowers from Malaga Garden Center to any funeral home listed below. Please refer to this list for the names, addresses and phone numbers.
Barnesville, OH
Campbell Plumly Milburn Home
319 N Chestnut St
Barnesville, OH. 43713
(740) 425-1616
Patron Funeral Homes & Crematory
702 E Main St
Barnesville, OH. 43713
(740) 425-1135
Beallsville, OH
Harper Funeral Home
52728 Ohio Ave
Beallsville, OH. 43716
(740) 926-1125
Jacobsburg, OH
Toothman Funeral Home
49484 O R And W Station St
Jacobsburg, OH. 43933
(740) 686-2525
Woodsfield, OH
Bauer & Turner Funeral Home
100 S Paul St
Woodsfield, OH. 43793
(740) 472-1601
Watters Funeral Home
37501 W State Route 78
Woodsfield, OH. 43793
(740) 472-1440
How do you turn grief into a healing process? Show your respect and sympathy; flower delivery to the funeral home will comfort the bereaved. Although, you can't take away their grief, you can create an atmosphere of support and understanding by sending flowers. Feelings of warmth and caring are created when flowers are delivered to a Jerusalem, OH funeral home from Malaga Garden Center.
To make flower delivery to a Jerusalem, OH funeral home easy, call the Malaga Garden Center. Malaga Garden Center will create a memorial arrangement that expresses your heartfelt sympathy and deliver it to the Jerusalem, OH funeral home. Just follow a few Jerusalem, OH funeral home flower delivery guidelines.
Know the deceased full name
Know the date of the funeral services
Know the name and location of the funeral home.
Know the funeral customs of the deceased's religion.
Let the florist know if it is designated for a particular family member
To help you find a Jerusalem, OH funeral home, Malaga Garden Center lists all the funeral homes they deliver flowers to.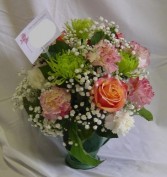 Roses and Carnations
I use only the freshest flowers. Combination of colorful Prima Roses and carnations
Shown at $45.00
Stars Concrete Bench or plaque
Bench - $110.00 Plaque - $65.00 Includes a silk spray to attach Sympathy card to.
Shown at $110.00